Back to the birds…
on
November 27, 2006
at
1:25 pm
EDIT: Apologies for the lack of strip earlier – I tried to put the comic to auto-publish at 8:30am. It published the bloggy bit, but for some reason didn't add the comic. Sorry! I'll have to think of something else…
One of the things that Da Vinci was less famous for was the invention of fluffy bunny slippers. Strange, but true. I've been wanting to go on this tangent for ages, so it's great to have finally got here. It's going to be a long-running bit of Trouble Down Pit that I'll return to now and again.
It was a weekend for sofa shopping. Yep, big grown-up stuff. Eek!
Not wanting to appear too mature, a black leather swivel chair and a nearby fluffy cushion presented too much temptation…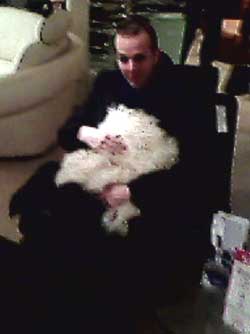 I suppose you expect me to talk? No Mr Bond, I expect you to die… At the sight of these marvellous bargain sofas! (Apologies for the rubbish camera-phone picture.)
'Hope you had a fun time, whatever you were up to, and I'll see you on Friday!